Acqua Private Residences - LOCATION
Acqua Private Residences is a true riverfront development, located on the regenerating Pasig River in Coronado Street, where Mandaluyong meets Makati. Accessible via the Makati-Mandaluyong Bridge, it is also connected to the Makati Central Business District via the newly constructed Estrella-Pantaleon bridge, making it truly a stone's throw away from all of Makati's top attractions.
While the Acqua Private Residences by Century Properties has earned attention for its unique design and concept, the location is also one of the practical features about this property that will make residents want to live here. This residential condominium is accessible via the Estrella-Pantaleon Bridge or the Makati-Mandaluyong Bridge. Both of these bridges connect the city of Mandaluyong to that of Makati.
With its proximity to the Pasig River, this makes Acqua Private Residences fit into the theme and its location. This is one of few major developments located in a waterfront location. It is also within a stone's throw away from the major attractions, shopping centers, and dining establishments. Acqua Private Residences is located across from Rockwell, one of the prime attractions in Mandaluyong.
Mandaluyong is one of the 16 cities that form Metro Manila. It is located in the east, and is bordered by other cities such as San Juan, Quezon City, Makati and Pasig. At 11 square kilometers in land area, it is one of the smallest cities in the Philippines. However, its size belies the economic potential of this city especially since this is the home of Ortigas Center. Ortigas Center is a commercial and business center in Metro Manila, of which Mandaluyong shares with the city of Pasig. There are also several notable corporate headquarters and buildings that can be found in Mandaluyong, which includes Shangri-La Plaza, SM Megamall, Asian Development Bank, San Miguel Corporation headquarters and Banco De Oro headquarters. Therefore, Mandaluyong might be small but it is an economic and business powerhouse. This explains why a lot of the top and new real estate developments in Metro Manila are located in this city. One example is that is the Acqua Private Residences, which is developed by Century Properties.
The accessibility and the wide array of establishments located near or around Acqua Private Residences further cement its identity as the hottest new development in Mandaluyong. Whether you want to explore in Mandaluyong, Makati, or Manila, everything is within your reach!
There are a few restaurant choices within 1 kilometer from Acqua Private Residences, for those looking for more options than what is available at the Riverwalk Promenade. Your dining options include Coffee Bean and Tea Leaf, Brazil Brazil, SumoSam, Braya Tea House, and Rehab Gastro Bar. Meanwhile, there are also plenty of medical and health facilities nearby. Some of the options available are Pacific Eye Laser Center, Mandaluyong Medical Center, Primary Health Care Center, and MTech.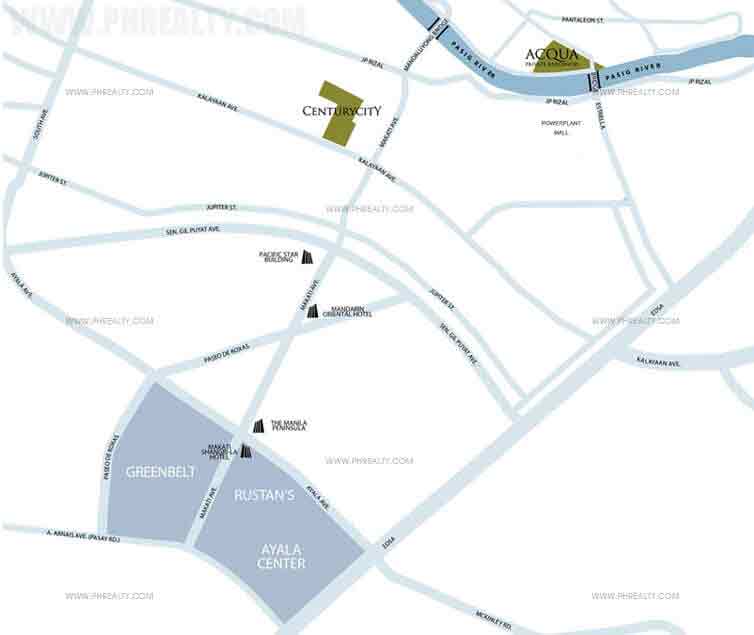 When it comes to schools, families living in Acqua Private Residences do not have to look outside of the city. There are several schools nearby such as the Mandaluyong Science High School, Little Thams Learning Center, Bonifacio Javier National High School and General Pio Del Pilar National High School. And since many of the corporate headquarters and businesses are located in this city, this is also the ideal place to live in for professionals since it is fairly accessible. You do not have to live outside of Metro Manila if you are seeking a quiet escape from the busy metropolis.